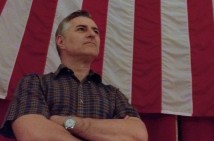 Joe Escalante, bass player for The Vandals, has launched a campaign to be a judge in L.A. County. He writes:

I am on the June 5, 2012 ballot in L.A. County to get a seat on the Superior Court Bench. I have been a Volunteer Temporary Judge since 2009, logging hundreds of hours each year presiding over small claims, traffic, unlawful detainer, limited civil, and limited criminal matters. I'm good at it, but if I ever want to get paid for it, I have to be elected officially. That's where you come in. If you live in L.A. County, register to vote and consider me. :) Thank You.
The famously outspoken conservative Escalante has served for many years as an entertainment lawyer, notably representing the Vandals in their recently settled legal troubles with the entertainment magazine Variety.
You can see his campaign page here.