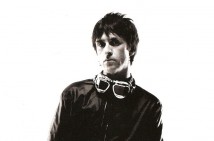 At the recent NME Awards in London, guitarist Johnny Marr may have sown the seeds of revolution in the UK, stating that he would reform his seminal band The Smiths "if the government stepped down." He said:

"We won't be reforming this week. Maybe if the government stepped down. If this government stepped down, I'll reform the band. How's that? That's a fair trade, isn't it? I think the country would be better off, don't you? I'll do it if the coalition steps down."
Marr was at the award show to receive the NME's Best Reissue award for the Smiths' recent Complete box set.
You can watch a video of Johnny Marr being interviewed at the awards here.