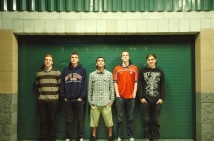 Following the release of their debut full-length Under Soil and Dirt last summer, The Story So Far seem to be going from strength to strength. Punknews interviewer Faye Turnbull caught up with vocalist Parker Cannon and guitarist William Levy before playing with Man Overboard in Kingston, UK, where they talked about their "hype," being able to balance band life with college, and writing music while high.
You seem to have exploded from nowhere; can you tell me a little bit about The Story So Far? Parker: We formed in the winter of '07, we've all been friends for a while. One of our original guitarists left to go to college and then Will joined the band in '08. Ever since then, we've been seriously writing, recording and touring, and just living the dream. It's awesome. I can't even explain it; it's been really fucking cool.
It's your first time in the UK and you've been an obvious draw, getting crazy reactions every night - probably better than the actual headliners, Man Overboard, at times - how does that make you feel? William: We definitely weren't expecting it at all. It's been a lot of fun, every show's been really cool in some way and the kids are really nice.
Parker: Yeah, the kids have been really sincere, it's a blast to be able to come over to a different country that we've never been to before and play shows besides the States. There's been kids hanging from rafters, it's wild. It's been incredible, to be honest.
I've heard wild shows are common for you, I read a story that you played a show with Hit The Lights and it got so rowdy that the venue threatened to shut it down. William: Yeah, kids were stage diving during our set when we were playing and the sound guy turned the house music up and the band vocals off, like all the microphones, and we just kept playing, and kids kept stage diving. We started arguing and the kids started chanting, "Fuck this place!" The whole venue, there were like 150 people all chanting it. It was fun. We kept going.
How old are you guys? I know that some of you are still in college and you've had to get a couple of fill-ins for this tour. How is it balancing college life with band life? Parker: Will's going to turn 21 pretty soon next month and I'm 19, turn 20 in May. The rest of the band are around the same age. There is no college life for us anymore. Kelen's nearly done with his school and Torf is a freshman at UCSB, he's going to come on tour with us soon and take a leave of absence. It sucks having to deal with it, but at the same time, we have really awesome friends that fill in with us and are down to tour with us, and able to play well, so it's still a cool time. I'm bummed Torf isn't here smoking with us. I'm bummed that Kelen isn't here being weird to everybody, but they'll be with us soon, so it's all good.
Jake Round, owner of Pure Noise Records, is tour managing you over here; it's cool that he's involved with you so much. William: It's great, we wouldn't be anywhere without that guy. We owe a lot to him. He's the dad of the group and the responsible one, he's good to hang out and party. It's good that he still gets the shit done and can party with us.
Parker: Yeah, he's done a couple of Warped Tours, so he knows what's good. He's not a civilian.
Are you surprised by the amount of hype you've received this past year from your debut full-length Under Soil and Dirt? Parker: I mean, I hate 'hype' with anything.
William: It's great that people are noticing it, but as far as we've come now and if it goes any further, I don't want it to not go away. I want to be a band that's always respected.
Parker: Let me put it this way, it's cool to have people talking about your band, but for us, we want to play for those people and play well for those people, to prove that we're a good band, and keep playing for years and years. We're not in this for the short run. You've got to be able to walk the walk.
Compared to this time last year, how's life changed? Parker: It's completely changed.
William: We were writing music, going to school, going to work, Parker lived six hours away from us. It all kind of happened over night, to be completely honest. We were getting ready to leave California for our first US tour and woke up to emails saying we were going to keep touring for a while.
Parker: We kind of all had to make a decision. It's been a crazy, crazy past year, in a really good way.
It hasn't been out long, but since Under Soil and Dirt was so well received, is there now pressure with future releases and being able to top it? Parker: Nah, not at all. It's not about topping anything. I think it's just about writing music that we love.
William: It'll be a new experience; I think that's the only pressure we have, within the five of us. We didn't write those songs on Under Soil and Dirt together, everyone lived in different places in California, but to actually sit in a room together to write and jam. I think that's why we're all really anxious to get back home and start writing; it's just another reason to hang out.
Parker: And smoke and just kick it. When we write music now, we're not like, "Oh, let's write a song because we need to." That's how it was for the last record, we had a time limit, but this one will be a little different. We've been touring for the past year-and-a-half and met so many new people, and seen so many great bands, and started listening to other types of music.
William: Everyone's in a different position in their life; some people aren't so sad anymore.
One negative thing I've read a few times is that some of your songs, like "Daughters", seem to be quite heavy on slut-shaming, how do you respond to that? Parker: I don't give a fuck about what people say about my writing. I know what I've written and try to portray it as well as I can. If some people don't like it, then some people don't like it. You don't have to listen, it's all good. Everyone's a critic. I appreciate the time that people take to really dissect it and provide introspection.
How do you feel to be apart of this nu-wave of pop-punk? Parker: We don't really listen to pop-punk, so it's kind of hard to say. None of us really listen to it at all.
William: We still listen to New Found Glory and shit, but I think what new pop-punk bands are doing is cool, because to whoever says the music scene is dying - it obviously isn't dying with bands making money and be able to tour and see cool places. We played in Scotland the same night as Four Year Strong and Panic! At the Disco, and all three of those shows sold out in the same city. That's cool.
You said you don't really listen to pop-punk and I see Parker is wearing a Harm's Way long sleeve, would you say you're mainly into hardcore? Parker: Yeah, pretty much. I listen to a bunch of stuff, though. We all listen to a variety of different stuff. I really like hardcore, but I also really like The Weakerthans. It's kind of hard to put yourself into one genre, especially after we've been touring for so long. You can't just listen to the same CDs in the van, you have to change it up.
William: I'm really, really, really into Riff Raff. He's a rapper from Atlanta, Georgia and he's nasty. He basically just drives around in a car, does drugs and raps. It's pretty awesome. It's funny, and he's playing Bamboozle the same day as we are, so I'm pretty excited about that. I get to see Riff Raff for the first time.
Parker: I didn't listen to mainstream shit until like a year ago, but I think the new Drake record is really good. I listen to it all the time. I would just say are tastes are just really broad. When you have a closed mind, there's no room to grow.
It does seem that you appeal to the hardcore scene as well - at the Brighton show yesterday, a load of hardcore dudes came up to the front for you. Parker: Yeah, we all love that shit, because we don't like to go to shows and just fucking stand there, we want to stage dive and get into it and sing-along. To have kids recognize where we're coming from and have that reaction is all I could ever ask for.
William: I think we draw the energy from how hardcore bands play. I love the energy. I'd love to tour with hardcore bands. We did a tour with Stick To Your Guns, Make Do and Mend, and Senses Fail, and that was great, because every band was so diverse on that tour. It was great, we got a chance to watch new music every night and I really liked that. It was a lot of fun. I'd love to tour with bands like Seahaven and All Teeth.
During your acoustic in-store show today at Banquet Records, you said something about wanting weed, so I take it none of you are straight edge? Parker: I mean, there's definitely a huge straight edge scene within hardcore, but at the same time, straight edge is for people's own self. It shouldn't be a militant movement at all. Whatever floats people's boats, everybody's got their own way of doing things and we love to get really, really, really high, and just talk about things and write music and have fun.
Do you write all of your music while high? Parker: Yeah, we get stoned as hell. The whole album was recorded while we were high. I didn't record one vocal sober. It makes us look at ourselves from an outside perspective and not be assholes.
What else is The Story So Far getting up to after this? William: We get home, we do a tour with The Wonder Years, Polar Bear Club, Transit, A Loss For Words, and Into It. Over It., which we're all really, really excited for, and then we do Bamboozle. We get home after that, we might be doing some other stuff, write, hang out with our dogs and friends at home, sleep and eat. Not having a normal life, I guess.
So, your lives are totally centered around the band now? William: Yeah, this is something I've always wanted to do. My dad did it when he graduated college, his dad's in a band, too.
Parker: My dad's in an all-dad cover band, they're called Other People's Money, because they all used to work in retirement plans and stuff. He sings in the band too and they play four hour-long sets. They cover anything from The Beatles to Guns N' Roses to Jimmy Eat World; they cover a lot. I don't know how he does it; he's a champ.
Is there anything else you want to say before we finish? William: Thizz or die.