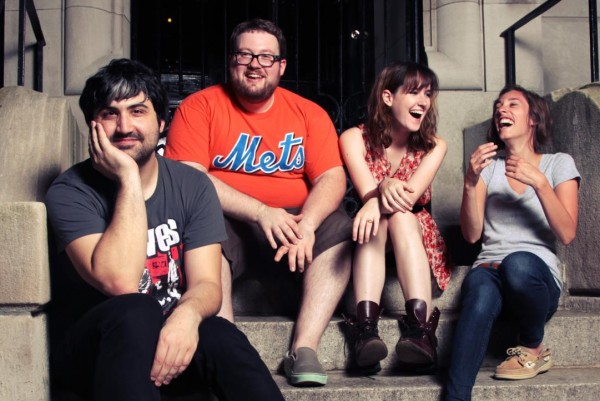 New Jersey band Candy Hearts has been quite busy as of late. Last month the band released a new EP titled Demo, which continues to develop the catchy, pop-influenced sound Candy Hearts is known for. Additionally, the band has recently embarked on a national tour with Man Overboard. Staff interviewer Andrew Clark was fortunate enough to speak with lyricist/vocalist Mariel Loveland in between tour stops about being a fellow Jersey resident and what the band is up to this spring.
Thanks for taking the time to do this interview for the site. I know you are a busy woman these days. What is going on with you currently?
I'm currently on tour with Man Overboard, Seahaven and Handguns, and we're driving through Texas right now. Last night we were in New Orleans with everyone but I'm sick so I was lame and stayed in our hotel.
While I know a little bit about the band, would you mind providing some background about the band's origins for readers?
We started playing music together in college and wrote a record and went on tour and wrote another record and went on more tours.
I saw that you are from New Jersey, too! Hooray for being a resident of the great Garden State! Which is the better part of the state: the north or the south?
Obviously the north because of New York, but Man Overboard will disagree with me.
Another question about New Jersey. Is there anything about being from a state so loathed that influences your music? I have noticed that a number of fellow NJ artists are, well, self-loathing.
I think growing up somewhere that is consistently made fun of in the media gives you thicker skin and a sense of humor. My songs are pretty "New Jersey" because a lot of them are about growing up in the suburbs.
Looking at your lyrics they seem to consist of a lot of self-reflection on relationships of all sorts. Is there a particular reason why you write about these topics?
Really most music is about that in some way or another. I mean, stuff happens to me so I write it.
I wanted to also mention that it is nice to have a female perspective being voiced within a predominately male scene; it seems to be a heavily underrepresented point of view. How has your music been received within this environment?
In the punk scene? We've been received way better than I thought we would.
Speaking of your music, I saw that you have recently released a new song via your Bandcamp page and will be heading out on tour with Man Overboard. Is there anything you are looking forward to with this spring tour?
Well, I'm actually on this tour now and I'm looking forward to getting out of the car and feeling less sick. Before we left though I was excited that Man Overboard wanted to bring us and to see lots of cities I haven't before.
Do you have memorable live experiences that you would like to share with readers?
When we played in Richmond a few days ago, Christian fell across the stage. Literally the WHOLE stage. And I stopped singing because I didn't know what was going on. He was alright though but he almost fell into the backstage area.
After the tour wraps up, what is next for the band?
Well, we're going to finish writing and record and we're playing Stay Sweet Fest in Richmond in April.
Thanks again for doing the interview, and if there is anything else you would like to share, please go ahead.
Everyone should check our record and the bands we're on tour with right now!