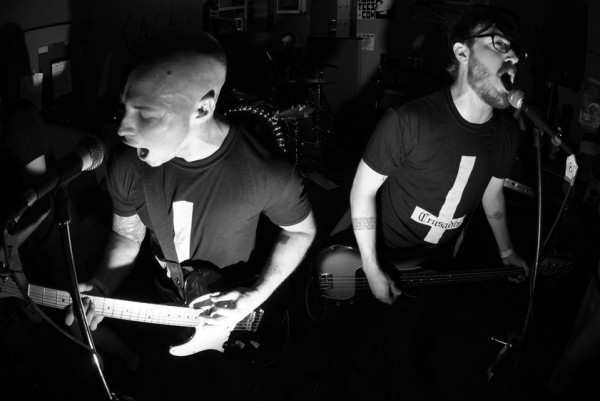 Hailing from Ontario, Canada and arising from the ashes of several local bands, Crusades has been gaining notoriety within the punk community, especially after the release of The Sun Is Down and The Night is Riding In late last year. The album mixes themes usually associated with black and death metal with the catchy, chorus-driven nature of pop punk, which has drawn a diverse following. Staff interviewer Andrew Clark sat down with guitarist/lyricist/vocalist Dave Williams to talk about the band's emergence, taking risks through punk, and what is up next for Crusades this year.
Thank you for taking the time out of your day to sit down with me.
You're quite welcome. And thank you for thinking I'd be worth talking to.
Of course; I've been listening to the new record a lot recently. To begin, would you tell readers who you are and what you do in the band?
My name's Dave Williams. I sing, play guitar, and handle lyric & design duties in Crusades.
After reading the band's Tumblr and knowing a bit about you thanks to Razorcake, you and the other members have quite the punk lineage going on. Do you feel any of your past experiences in the "scene" has helped lead to the formation of Crusades?
Haha, an interesting and potentially-loaded question. Well, inevitably my individual experiences touring with previous bands, as well as past approaches to recording, networking, etc, have informed the way I approach my involvement in Crusades, and I think I can safely speak for the other three guys in saying that the same applies to them. We've all been doing this for the better part of our lives now, and without citing any specific triumphs or follies, one hopes to learn from one's mistakes. That said, I don't think Crusades' initial formation was necessarily inspired by past experiences, positive or negative. It was more of an organic, "four pals with similar worldviews and interests who wanted to jam" type of situation.
While we are on the subject of being involved in punk for some time now, what helps sustain your commitment to it?
I guess what sustains my commitment to punk is the opportunities that it has afforded and continues to afford me. I write for a relatively popular magazine. I master some really terrific records. I get to travel the world and play in beautiful far-away cities and meet incredible people quite regularly. And I get to do all of these things because of a combination of being pretty good at what I do and doing it with an unrivalled amount of passion and conviction. And that's all that punk has ever asked of anyone. Hone your craft with all of your heart and people will take notice. And that continues to amaze me every day. The rarity of my situation is far from lost on me, and essentially it's all thanks to the fact that I was an angry kid who found something special in songs that most people thought were nonsense.
Is there anything you feel is lacking today that might have existed previously?
I think for a while I felt like punk had been co-opted to the point where it had entirely lost its danger and cache. As a result, I went through the requisite "I only listen to old bands now" phase. It was actually Regulations' first record that got me digging for new music again, and it wasn't long until I realized that there are always going to be bands that carry the banner for what made punk great in the first place. Time and again that notion is obscured by whichever sub-subgenre of punk briefly parades across the main-stage, but with even just a bit of effort you can find new songs to give you chills.
In my opinion, and take it for what it is worth, you guys and a number of other bands that have emerged recently seem to be bringing back an element of danger to the genre. For instance, looking at some of your lyrical themes, you are calling out religions on their unsavory dimensions, including covering-up pedophilia and body-negative outlooks. Has anything prompted this focus over another?
Crusades' focus from the beginning was to take topics that were typically relegated to much heavier, more aggressive music, and to present them through a decidedly more accessible vehicle. Personally, as a fan of hardcore and metal's darker subsets, songs attacking spirituality in its numerous forms have always 'moved' me, so it was very natural for me to tackle similar subjects.
Delving more into the music itself and its themes, I got to check out your earlier self-titled EP on YouTube, and it is set to a grainy black and white short film of sorts featuring what looks like a Black Mass. Is that accurate?
Indeed. The video is culled from footage of a Black Mass at Church of Satan founder Anton Szandor LaVey's home.
What was the intention behind the video and putting something seen by the majority of society as "evil" front and center?
Admittedly, the intention was, and always is, somewhat inflammatory. Aligning oneself with what the average christian citizen sees as 'evil' is simply an adversarial symbolic gesture. Granted, the Black Masses of LaVey's era can certainly appear campy, even somewhat comical by present day standards, but the idea of Satan still conjures enough fear in the hearts and minds of morons the world over that there remains a massive, disgusting, foolish empire built around it.
Similarly, Crusades just released a new video for The Sun is Down and the Night is Riding In's first single, "Attic." I have got to say the dark imagery used in it matches well with the lyrics of the song and seems to be a fitting introduction to the rest of the album's themes. Was this something you guys consciously did?
Without even the slightest pomposity, we try to make everything that Crusades puts forth conscious and intentional. There are common threads running throughout all of The Sun is Down, and we certainly intended for that to continue into any visual representation of the songs. The theme of the LP is a very literal journey from imposed spirituality to militant atheism, with "Attic" serving as the starting point of said journey. The accompanying video for the song is comprised of a smattering of images from the life and works of Aleister Crowley, whose own journey into 'darkness' has inspired countless flights from meekness and into a world of self-discovery. It only seemed fitting.
As someone who has studied religion both in school and outside of it, I am curious to hear about your take on it given what comes up in your lyrics. More precisely, what types of personal experiences have influenced your work within Crusades?
My take on religion is quite succinctly summed up in The Sun is Down and The Night is Riding In. Much of the record details my own evolution from a child coming-of-age in a Christian community - whose education, rites of passage, holidays, experiences with loss, etc, all were peppered with the rhetoric and fantasies of damnation and torment - to a young man who witnessed first-hand the devastation that 'faith' can wreak on young minds. Mental illness, addiction, attempted and successful suicides, all rooted firmly in the initial poisoning that is a religious upbringing. It is, without hyperbole, a pure form of psychological and emotional abuse, carried out by individuals far too unintelligent to realize it.
What is up next for the band now that the record has been released?
We've just begun writing the music to our follow-up LP, but I don't imagine that will see the light of day until at least late-fall of this year. The lyrical component is finished, but rearranging my long-winded diatribes and setting them to 2-to-3-minute songs is a time-consuming feat, and Skottie, Emmanuel and Jordan will certainly attest to that. They've become masters of paring down my writings into singable lines. There is also a short European tour currently being booked for the fall and some planned festival dates in the US. I doubt we'll be playing much otherwise, aside from the annual Ottawa Explosion festival, which Emmanuel curates, along with Luke from The White Wires, and is always one of the best, if not the best weekends of the summer.
Last word is yours.
Question tradition and deny yourself nothing. There is a beast in man that needs to be exercised, not exorcised.