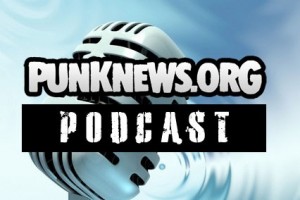 This week on the Punknews Podcast host Adam White along with Kira Wisniewski and John Gentile discuss the week's news, including Patrick Stump's insecurities and Brendan Kelley's response, the upcoming Joey Ramone solo record, reissues from Operation Iv, and Joe Escalante's judicial campaign.
…all this and music from Crusades, Babies and Loose Cannons.
You can click Read More to stream and/or download the show, or subscribe via RSS or iTunes. You can always send us your feedback in the comments section or via e-mail. UPDATE: Link fixed.
This episode of the Punknews Podcast is sponsored by Pouzza Fest, the punk rock festival taking over downtown Montreal from May 18th to the 20th.
Punknews Podcast for the week for March 6, 2012