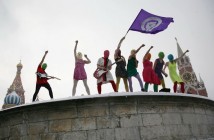 Members of the Russian feminist punk collective Pussy Riot have been arrested following their February protest at Christ the Saviour cathedral in Moscow, the Guardian reports. The arrests began on the 3rd of March, the day immediately preceding the Russian Presidential election, which saw Putin reinstated at President after a period as Russia's Prime Minister.
The group has posted some of it's own videos via their YouTube channel.
While six members of the collective were charged in connection with alleged hate crimes and public order offences, Nadezhda Tolokonnikova and Maria Alyokhin remain in custody, where they have begun a hunger strike in protest against the conditions of their arrests. Said conditions will see them remain in custody until their hearing in April. Both women have children under six.
The Kremlin's press service claims:

"These citizens were taken in on suspicion of committing a crime, one involving a gross violation of public order, including inciting religious hatred as part of a planned conspiracy,"
The band members maintain that they were subjected to seven hours of interrogation, beginning at 4am local time, and allege that their interrogators revealed that the policy surrounding the case is being directed "from the highest levels", as part of a policy covering "all anti-state activities".