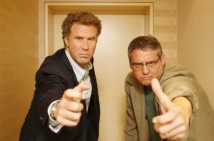 Though it's been almost six years since the book was optioned, progress has resumed on a film adaption of Frank Portman's 2006 debut novel, King Dork. The company behind the film - Gary Sanchez Productions - is co-owned by Will Ferrell and Adam McKay who are best known for their long partnership together which has resulted in films like Anchorman: The Legend of Ron Burgundy, Talladega Nights and the website Funny or Die.
According to a Empire Online report, the film has passed through studios including Paramount and Sony, but now both a director and writer have been attached. The screenplay comes from D.V. DeVincentis who previously adapted High Fidelity and co-wrote Grosse Pointe Blank. Both films included a fair amount of punk rock references, particularly the latter film which saw a soundtrack assembled by Joe Strummer.
The film is set to be directed by Matt Piedmont who directed shorts for Funny or Die! and Will Ferrel's new comedy, Casa de mi Padre.
Shooting scheduled to start in June in Connecticut.