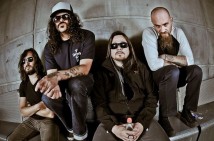 The members of Kyuss Lives! have posted a brief response in light of the lawsuit launched by Queens of the Stone Age's Josh Homme and his Kyuss bandmate Scott Reeder. They said only this:

We are both shocked and saddened that our friend and one time band mate has chosen to file a lawsuit against us, especially after having positive discussions since our reformation. We look forward to resolving this private matter behind closed doors and moving forward with work on our new album and connecting with our amazing, loyal fans.
Kyuss split in 1995, but was reformed under the new name by John Garcia and Brant Bjork along with original member Nick Oliveri in 2010.