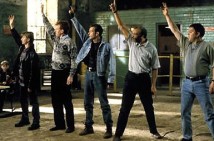 Swedish promoter Stockholm Straight Edge has kicked Germany's Fallbrawl from the bill of the upcoming Firestorm Fest. The band was dropped due to a controversial new music video which saw the band visit a strip club. The promoter explained the decision:

The music video for their song "Can You Dig It?" explicitly show that they have an opposite view on feminism and women's rights than us. We don't want to support such behavior in our scene and therefore we had to take action. We understand that some of you wanted to see FALLBRAWL, therefore we are truly sorry for the inconvenience.
The video itself as already been removed from Vimeo and YouTube but can still be found on Daily Motion. You can judge for yourself here. It probably goes without saying that the video is NSFW.
To provide some balance, here is a scene from the Full Monty.