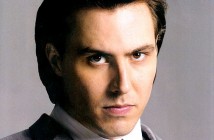 To celebrate the 10th anniversary of 2002's I Get Wet, Andrew W.K. and Century Media will be releasing a special edition of the album. The new reissue will include the original album, as well as a second disc with live recordings, early demo versions, alternate mixes and other previously unreleased material. The label is also promising a small number of autographed deluxe editions which will contain "something" directly from Andrew; this will include "everything from a lock of his hair to a world tour airplane ticket stub." As double vinyl LP is also planned.
Andrew wrote a brief note about working with Century Media:

Even after all these years, I clearly remember the first day I heard the band Mayhem's album, "De Mysteriis Dom Sathanas". Its dark psychedelic sensations made me realize I had found a new destiny - and had found the greatest music ever made. When I turned that seminal Mayhem album over and looked at the fine-print on the back cover, I saw a bold and clear stamp bearing the name CENTURY MEDIA. Another wave of destiny washed over me and a new dream was born: that I, Andrew W.K., would somehow be part of this great label's story of musical power and glory.
You can click Read More for the video for "Party Hard" from the original album.
The reissue is due out July 17, 2012.