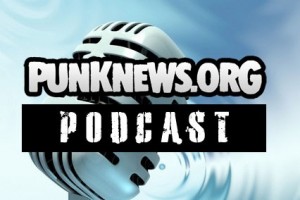 This week on the Punknews Podcast host Chris Moran along with John Gentile and Kira Wisniewski discuss the news, including Boston's war on mosh, Andrew W.K.'s new MySpace project, Danzig playing Bonnaroo and the recent Max Bemis interview.
…all this and music from Parasol, Crazy Arm and an exclusive vintage live cut from Public Image Limited. Seriously.
You can click Read More to stream and/or download the show, or subscribe via RSS or iTunes. You can always send us your feedback in the comments section or via e-mail. UPDATE: Links fixed.
This episode of the Punknews Podcast is sponsored by Pouzza Fest, the punk rock festival taking over downtown Montreal from May 18th to the 20th.
Punknews Podcast for the week for March 22, 2012