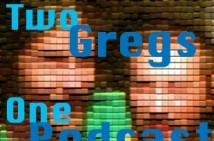 Punknews.org is happy to continue our exploration of the regional scenes with the second episode of Two Gregs One Podcast, our spotlight of the U.S. Midwest from Org staff reviewer Greg Simpson and pal Greg Moore. On this episode:

…we review releases by The Harlequins (Cincinnati), Eric Radoux (Chicago/Bloomington, IN), Torch Singer (Chicago), The Size of Color (Bloomington, IN) and a half-assed live review/rant of Maps & Atlases (Chicago). Also, we will decide, once and for all, who is "The Most Awesome Greg."
Click Read More to stream and/or download the show, or subscribe via RSS or via the iTunes Store.
Two Gregs One Podcast - Episode 2