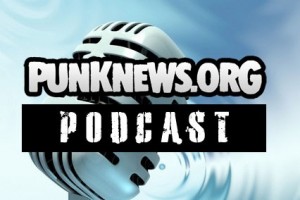 This week on the Punknews Podcast Chris Moran and Kira Wisniewski welcome back the abandoner: Bryne Yancey. Yes our former news editor has emerged from his palace of gold to discuss some of the week's lowly punk news with those of us still living in palaces of less-precious metals. This week? It's Fat Mike vs Ben Weasel, a new Hot Water Music jam, more Refused shows, the totally non-Fake Problems related I S UR D and more.
…all this and music from Great Lakes, Dead Ending and The Real McKenzies.
You can click Read More to stream and/or download the show, or subscribe via RSS or iTunes. You can always send us your feedback in the comments section or via e-mail.
This episode of the Punknews Podcast is sponsored by Pouzza Fest, the punk rock festival taking over downtown Montreal from May 18th to the 20th.
Punknews Podcast for the week for March 27, 2012