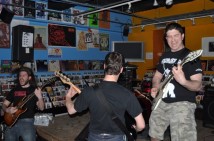 Fire and Floods have announced their debut. The band is a new project from Rob Fusco (One King Down, Most Precious Blood), Matt Canning (Shai Hulud, Twilight Collective), Phil Bryer (Twilight Collective), Emidio Capponi (bass), and Sean Ward (drums). The record is titled The Voice at Your Heels and is due out May 29, 2012 .
The label had this to say about the release:

The great thing about the hardcore scene(s) is that members from different bands are always up to the challenge of creating new music with each other. It's been happening since always and there have been some great side-projects and bands come out of the willingness to experiment and explore. The sound of Fires & Floods is well-steeped in hardcore but there is a meanness and ferocity permeating throughout. It's taking the best and harshest aspects of hardcore, grind, and even speed metal and shaking them until a new sound is made. Or something close to that.
You can check out some music on their Band Camp.