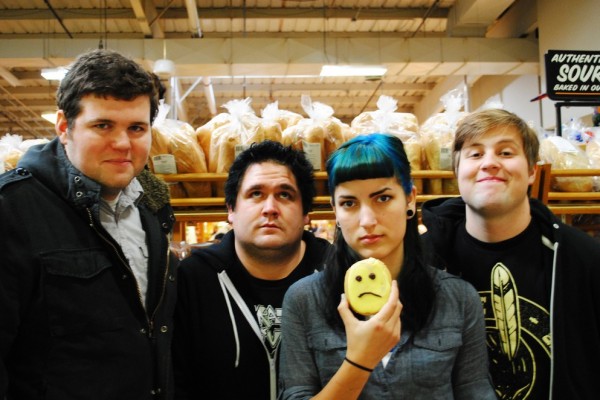 Continuing our series on Larry Livermore interviews (and our concurrent series of "Ill shit"), today we bring you a Livermore directed interview with Mixtapes. Keep an eye out as we continue to post Livermore fronted interviews with other bands from The Thing that Ate Larry Livermore.
The first time I encountered the Mixtapes was at the 2011 Insubordination Fest, and it really came about because Ryan, one of their singers, was fronting a band called the Gooningtons, who formed, wrote some songs, recorded them, performed them at the Fest, and disbanded, all in the space of maybe 48 hours, largely for the purpose of lampooning some of the more generic bands on the pop-punk scene.

Much to everyone's surprise and, in some cases, chagrin, the Gooningtons turned out to be a good deal better at the clichéd but cool sound and style they had set out to ridicule, and this caused a lot of folks, myself included, to look more closely at Ryan's "real" band, who were playing later that same day. While sounding nothing at all like the Gooningtons (which, as you'll see, Ryan now disavows all knowledge of), they were a breath of fresh air in so many other ways, with their male/female vocals (courtesy of Ryan and co-frontperson/singer Maura) being one of the most notable features setting them apart from the pack.

Ryan and Maura answered these questions about their band, whose song "Right Where To Find Me" is the second track on The Thing That Ate Larry Livermore. However, since the interview was conducted by email and they refused to tell me which of them was answering which question, like me, you'll just have to guess.
Ryan, you've gotten a lot of praise for your songwriting and singing with Mixtapes, but some of us are curious about your brief stint with a lesser known band called the Gooningtons. Can you tell us how that came about, and whatever became of what looked like a promising future for the Gooningtons?
I have absolutely no idea what you are talking about, next question, please.
Also, Ryan, you appear to have an unrelentingly sunny and optimistic disposition, often putting you at odds with some of your fellow punk rockers, who cultivate a surly and nihilistic attitude even when everything seems to be going their way. How do you manage to stay so upbeat, and are you ever tempted to say, "Oh, the hell with it, I might as well be grumpy like everyone else"?
No way, someone has to counteract these jaded, old, bitter nerds.
One immediately noticeable thing about Mixtapes is the dual male and female vocals. Is that something you always wanted to do, or did it just sort of evolve once you decided to do a band together?
Mixtapes certainly evolved a lot from what we originally planned it to be, but we always wanted to have the dual vocals. I know when Ryan told me the idea for the band - sorta 90's indie-rock sounding - the defining trait was to have both of us singing equal parts.
Is trading vocals with Ryan the ideal situation for you, or do you sometimes dream of shoving him aside and being the sole lead singer?
Haha, I'll say trading vocals is definitely the ideal situation for me. To me, that's Mixtapes. What would it be without that dynamic? There's not really a defined "front person." If I really wanted to be like that in a band, I would.
Who's the "sensible" or "mature" one in the band, the one that makes sure things get done, and who's the crazy, irresponsible one that makes sure things are fun?
I could never say this about any band that I've been in before, but I think we all contribute to both. We all work together and are mostly efficient at making sure things get done that need to be done, and we make sure it's done on time and properly. However, outside of that we are all incredibly goofy and have fun.
You guys seem to tour almost nonstop these days. Do you ever wonder why you bother to have a home when you're almost never there? And what's home like? Do some or all of you share living space, or do you see so much of each other on tour that you can't wait to get away from each other once you get home?
We love touring so it's never a problem. The only downside is missing friends and family of course, but other than that we have a blast. You would think that would take it's toll but honestly every time we have gotten home from tour we are practicing within 3 to 4 days, we just can't quit.
When you play your first show at Madison Square Garden, do you think your set will be dramatically different from what you're doing now? And do you have plans for how you can take the songs you've been playing in small clubs and get them to connect with the people sitting way up at the top in Row ZZZ?
It's all about IMAGE IMAGE IMAGE. We don't so much focus on songs as we do the stage show. How many spin kicks are we doing? Are there flames coming out of something at all of the choruses? Are we making sure people clap every time there is a part that is just drum and bass? Forget the songs and give the fans what they want.
When did you first knew you wanted to make a life for yourself as a musician? Have you ever doubted that decision?
I knew I wanted to start a band when I first bought Boogada 3x by Screeching Weasel. Up to that point I had gotten into the Beach Boys and oldies bands, and then into punk rock but it seemed so impossible for me between the guitar parts and vocals and harmonies. When I first heard Boogada it just blew me away because it wasn't complicated, the vocalist couldn't really sing, it didn't sound great, and it was so much better than the other stuff I was listening to. I started writing songs then and have since been in tons of bands, some for fun and some trying to find some sort of success. Right before Mixtapes started I was actually just kind of jaded on any scene and had started a rap group with friends and it was awesome. We didn't care about anything except making music and there was no pressure. I went through some tragic situations at that time and started writing Mixtapes songs with Maura. Mixtapes literally started with NO ambitions, we just wanted to record songs. Somehow along the way we started touring and didn't stop. I'd honestly attribute that to Dear Landlord. They offered us our first real tour because Zack liked our record. At that point we said, if we're gonna start let's just not stop, and we haven't.
What do you think you'd be doing with your life if you weren't a musician?
Rotting? I'd probably try and make cakes.
Did you listen to old school East Bay bands when you were growing up? If so, which ones, and do you think they had any influence on you, either in your style of music or the way you operate as musicians?
I guess old school is hard to define but from the east bay scene I grew up on Crimpshrine, Mr. T Experience, Groovie Ghoulies and of course Green Day. If by old school you mean more along the lines of Dead Kennedys, The Avengers and the Nuns and such then not really, I never got into that stuff. The Mr. T Experience is one of my all time favorite bands and maybe not even the East Bay, but that time period in general certainly had a huge impact on the way I play and think about music.
If you could tour the world opening for any superstar band you wanted, who would it be? On the other hand, if you were to become superstars yourselves, who would you invite to open for you on your first world tour?
I'd love to tour with The Hold Steady, The Counting Crows, or The Foo Fighters. If we somehow were that cool I would take out House Boat and The Fake Boys.
What's the best thing and the worst thing about being part of the "punk rock scene?"
The best part is being able to play songs you like all over the place, the worst part is a good 75 percent of the people!
And if punk were a club or an organization that it was possible to resign from, do you think you ever would?
Nah I'd like to think I will have a nice jacket that I can relax in a retirement home filled with a bunch of idiots just like me, and we can play ping pong and hang out forever.
There have been accusations - well, from at least one member of the Pop Punk Message Board - that Mixtapes play "mall punk." How do you respond to this charge?
Well we did have a song recently played in American Eagle, so technically I guess it's true. However minus that it is meaningless cause I don't know what that means. I assume people mean drive thru records era, which we don't honestly sound much like at all. And if that counts I would think Green Day would be super mall punk, but people don't consider them because why? Because they are cooler? Is it a sound, an image, an attitude? I dunno, sure, we are mall punk.
Why is there no "the" in front of Mixtapes?
Because we are mall punk, not pop punk!