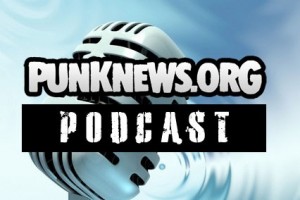 This week on the Punknews Podcast, Chris Moran, Greg Simpson and John Gentile discuss the week in punk news, including our dumb April Fools jokes, Damian Abraham of Fucked Up's Katy Perry problem, the next Gaslight Anthem album, Frank Carter's Gallows revelation, and Time Again's prison bound vocalist.
…all this and music from The Sun The Moon The Stars, Tit Fit and Sectarian Violence.
You can click Read More to stream and/or download the show, or subscribe via RSS or iTunes. You can always send us your feedback in the comments section or via e-mail.
This episode of the Punknews Podcast is sponsored by Pouzza Fest, the punk rock festival taking over downtown Montreal from May 18th to the 20th.
Punknews Podcast for the week for March 27, 2012