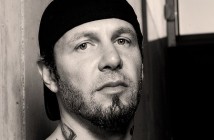 Roger Miret (Agnostic Front, Roger Miret and the Disasters) and Onno van Ravestijn have founded a new label, by the name of Strength Records, reports GlueHC.
At the time of writing, the label has two releases planned; Lawless and Disorder, the forthcoming full length from Belgium's Hard Resistance; and Respect Your Roots Worldwide, a covers compilation featuring established bands covering the music of their youth. While a tracklisting is not yet available, the list of bands involved is extensive.
Bands due to contribute include Terror, Rancid, Biohazard, Napalm Death, Evergreen Terrace, Beowulf, Dropkick Murphys, Peter Pan Speedrock, Bonecrusher, The Unseen, The Generators, The Bones, Hard Resistance, No Turning Back, Hudson Falcons, Agnostic Front, Wisdom In Chains, Flatfoot 56, Death by Stereo, Good Riddance, and Deafness By Noise.
You can find out more about Strength Records at their website, here.