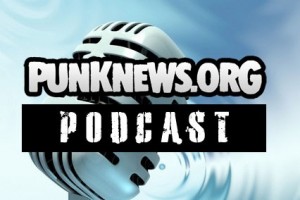 This week on the Punknews Podcast, founding caster Adam White returns to survey the wreckage of the Podcast wrought in his absense. From the rubble we rebuild with Chris Moran and Kira Wisniewski joining to discuss news like the Green Day triple album announcement, the Sex Pistols' Olympic invite, the ex-Bury Your Dead TV-inspired gang warfare, the lineup for the Fest 11 and more.
…all this and music from Tim Barry, Gnarboots and Autochrome.
You can click Read More to stream and/or download the show, or subscribe via RSS or iTunes. You can always send us your feedback in the comments section or via e-mail.
This episode of the Punknews Podcast is sponsored by Pouzza Fest, the punk rock festival taking over downtown Montreal from May 18th to the 20th.
Punknews Podcast for the week for April 10, 2012