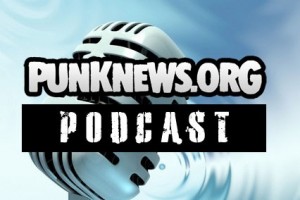 In this very special hologram Tupac edition of the Punknews Podcast, Chris Moran, Adam White and John Gentile survey this exciting new world of ghostly animated performers and other musical apparitions. Among the stories discussed are the All American Rejects' iPad stunt, the Alexisonfire's post-breakup robbery, the mythical Kurt Cobain solo record, The Hives shittalk, NOFX with Bill Stevenson and more. Did I mention hologram Tupac?
…all this and music from Japandroids, The Fake Boys and DNF.
You can click Read More to stream and/or download the show, or subscribe via RSS or iTunes. You can always send us your feedback in the comments section or via e-mail. UPDATE: If you stream this from the browser, the show has been fixed.
This episode of the Punknews Podcast is sponsored by Pouzza Fest, the punk rock festival taking over downtown Montreal from May 18th to the 20th.
Punknews Podcast for the week for April 17, 2012