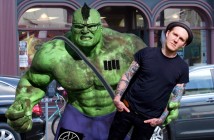 Of all unexpected sources, Jaded Punk Hulk, was able to get the most comprehensive answer from The Gaslight Anthem frontman Brian Fallon with regards to the minor controversy he caused when calling out fans of Jawbreaker and The Replacements in a recent, somewhat light-hearted interview for Red Bull Academy. Here's an excerpt of what Fallon said about the incident:

I confess to Hulk… I was being bad on purpose. I do love both Jawbreaker AND The Replacements. I truthfully believe I would never have been able to write the songs I've written without both of these bands. I said what I said for sheer shock value and to prove a point. I feel that people sometimes judge other people upon things they like and form little groups of yes-men and women. They only want to be around people and listen to bands that think the same way they do. This is not everyone, and truthfully, it's not even everyone on Punknews.org. I actually read that site all the time to find out what records are coming out, who's on tour, etc. The reason I said what I said about some of the people on there, is that I see them lift people up and then drop them to the ground all the time.

I was only aiming at the people who don't understand diversity inside the punk community. I mean after all, I'm just a fat guy who wants to be "The Boss" and Tom Waits, I'm a total hack and you should never listen to me.