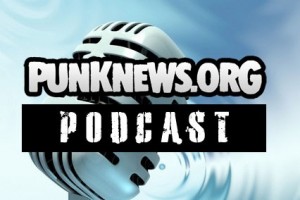 Did you hear Brian Fallon once strapped a dog to the roof of his car and drove his family to Canada on vacation? It's true. Learn this and more horrible facts about the Gaslight Anthem on this week's Punknews Podcast with Adam White, Kira Wisniewski and John Gentile. We also talk about our excitement (or lack thereof) for the new Offspring record, the leak of the One Nine Nine Four doc, the debut song from post-Gallows act Pure Love, a new Hot Water Music song, and our personal Record Store Day recaps.
…all this and music from Thee High Priestess, Curmudgeon and The Stooges. Yes, the Stooges.
You can click Read More to stream and/or download the show, or subscribe via RSS or iTunes. You can always send us your feedback in the comments section or via e-mail.
This episode of the Punknews Podcast is sponsored by Pouzza Fest, the punk rock festival taking over downtown Montreal from May 18th to the 20th.
Punknews Podcast for the week for April 24, 2012