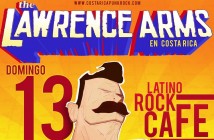 The Lawrence Arms will be playing at the 7th aniversary of Destiny Recordings in Costa Rica in May 13th. Destiny Recordings and Stand Up Productions are two companies from Costa Rica that have been working together doing punk rock shows since 2008, and during this time have worked with bands including NOFX, Bouncing Souls, Millencolin, Strike Anywhere, Down by Law, SNFU, After the Fall, A Wilhelm Scream, among others.
The Lawrence Arms show will be the first of a series of shows that Destiny and Stand Up have planned for 2012, with the rest of the shows set to be announced on May 13 at the show.
The Lawrence Arms will be releasing their live DVD, An Evening of Extraordinary Circumstance on June 5th, 2012 via Fat Wreck Chords.
Update: We're hearing that Chris McCaughan won't be playing this show, so drummer Neil Hennessy will take over on guitar and backing vocals with Ron DiCola The Arrivals taking over drumming duties. Vocalist Bendan Kelly notes while they are disappointed McCaughan won't be at the shows the band, "didn't want to miss what's probably the only chance for a small, relatively unpopular band to go to Central America."