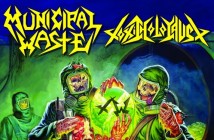 In an inspired pairing, thrashers Municipal Waste and Toxic Holocaust will be releasing a split 12-inch this summer, titled Toxic Waste, via Tankcrimes Records. The split will feature two new songs from each act, and will be released as a picture disc and on glow-in-the-dark vinyl, and features art by Andrei Bouzikov, who has worked on several past Municipal Waste albums. The record is due out June 12th, 2012.
Municipal Waste / Toxic Holocaust - Toxic Waste
Municipal Waste "Trapped in the Sites"
Municipal Waste "Mourning Sex"
Toxic Holocaust "We Bring Em Hell"
Toxic Holocaust "Alter-ed States"