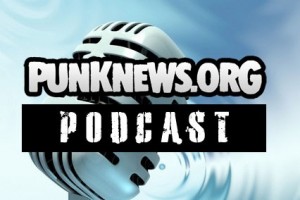 For the first time in human history the Punknews Podcast is recorded live! Circumstance has brought Rich Verducci, Kira Wisniewski and John Gentile together in San Jose for a face to face recording session. The group chats about the week's punk news including troubles at Roadrunner Records, the last word on the Brian Fallon controversy, Mark Hoppus getting fit and Joey Shithead of D.O.A running for office in BC.
…all this and music from Terrible Feelings.
You can click Read More to stream and/or download the show, or subscribe via RSS or iTunes. You can always send us your feedback in the comments section or via e-mail.
This episode of the Punknews Podcast is sponsored by Pouzza Fest, the punk rock festival taking over downtown Montreal from May 18th to the 20th.
Punknews Podcast for the week for May 1, 2012