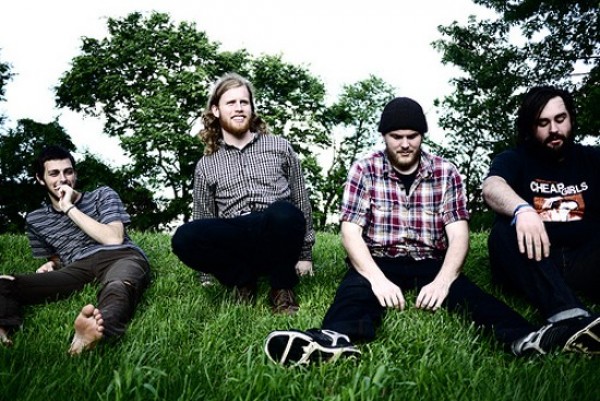 Have you ever hopped on a sea cow and manateed up? I didn't think so. But, if you ever listened to The Sidekicks song about doing so, you'd be motivated to do just that. Though they hail from northeastern Ohio, The Sidekicks have hit just about every major city you can imagine and are guaranteed to have you singing along with your first listen. In midst of a hefty tour with Cheap Girls, The Menzingers and Captain We're Sinking, Punknews Copy Editor Amelia Cline got to catch up with them and see how tour has been treating them so far.
I'm pretty jealous you guys get to play with two of my favorite bands every night. From your experience so far, what's it like touring with three other bands for (almost) a month? Do you find yourselves getting crazy and stage diving with fans, too?
It is awesome seeing Cheap Girls and The Menzingers play every night, although I have yet to become so overwhelmed with rock that I felt the need to stage dive. I'd love to see Ian Graham's reaction if I did though.
Alternative Press recently featured your cover of Communication Blues by Cheap Girls. What inspired all of you guys to come together and cover one another's songs? Why did you go with that song in particular?
Well, the cover idea was thought up before the tour started, and then we each recorded them at different times on the tour. We all liked each other's songs, so it was cool to do different arrangements of them. People kept walking in on each other practicing the covers, so that was a little weird. I liked Communication Blues because we were able to do a folkier version of it where I picked out the melody instead of strumming it. It's also got everything that's good about a Cheap Girls song - in that it's simple, clever, and has great melodies.
Very true! So, you guys just released your third record on Red Scare with this new album, Awkward Breeds. What has the journey been like since releasing So Long Soggy Dog in 2007 until now?
The band has gone through a few changes, lineup-wise, so we've certainly been through a lot since that first record was released. We've gotten the opportunity to play some great shows and meet amazing people over the past several years, and I think those experiences continually inform our lives and our music. I don't think our approach to writing songs has drastically changed since then, though. I still try to write songs that I can become really invested in and musically we are always looking to keep ourselves excited and interested with what we're doing. Our drummer, Matt Sanders is still terrifyingly friendly all the time and he still manages to have an unrelenting will to drive the van.
I actually remember seeing you guys' play at the Kickstand in Gainesville during The Fest, I believe Fest 8, possibly 7, and the crowd absolutely loved every minute of your set. What is your favorite type of setting to play in? Is there any one show that sticks out to you to the most because of how much fun you had with the crowd?
Personally speaking, I always love playing on the floor with people standing really close. We played a collectively-run space called the Wonderoot in Atlanta and that show was awesome cause we had been playing on stages the whole tour. It was refreshingly comfortable to be standing on the same level as everyone watching the show. Although playing on the floor probably isn't the most enjoyable situation for people wanting to actually see the band, it remains to be the most fun to play. To take a quote from our guitarist Matt's quote book, "it takes all kinds I guess."
Though you are only half way through this tour, what's been the best show for the band as a whole? Is there a city you are looking forward to playing in the upcoming dates?
Philadelphia and New York City were both great shows. Playing Philadelphia feels like playing in Ohio because we have so many wonderful friends in that city which makes for a really fun atmosphere to play in. I always look forward to playing the west coast, specifically California. I'm not sure of the specific reason as to why, but I always feel really sad when we are leaving that state. Maybe it's the burritos.
What was it like shooting your song "1940's Fighter Jet" for the Pink Couch Sessions?
A royal pain, Dave is a diva. Just kiddin, he's a great guy and it was cool to hang at his place for the day. Matt did an "American War" Pink Couch that day as well.
Stay Sweet Fest in Richmond is coming up soon and you guys announced that you'd be playing a few months ago. You also had the chance to play at SXSW. What bands do you look forward to seeing and playing with at Stay Sweet and can you tell me about your SXSW experience?
Vacation is the best punk band playing right now. Get into it asap! SXSW or as I like to call it 'South By' was an al-right experience. We played with Valient Thor. We got to see Hot Water Music and a couple songs by Braid, that was cool. I don't like to call it South By.
Haha, you aren't the first person I've heard shorten it like so! Well, you guys have been really busy over the past few years and I can tell that all the hard work has paid off. After all of this growth and time, what aspirations/goals do you have for the band in the next few years?
We've never been too concerned with ultimate goals or purposes as a band, but I think more immediately we just want to keep playing shows we are excited about and writing songs that have meaning to us. I want to put out another full length soon. I don't know. I guess we want to make sure the band is still giving us the same fulfillment it did when we started, and if that need is being met, then we're in an alright place.
Have you thought of taking a trip overseas? Any places in particular you'd really love to play and what bands would you want to tour with if so?
Yes! We are plotting a trip to the UK as we speak; we just need to figure out how to pay for plane tickets. I'd like to go to Ireland and play a few shows. Maybe Sweden too, and if we went to Sweden, my unrealistic dream would be to play with The Tallest Man On Earth.
Make it a reality! I think you guys could absolutely do that. Do you have any plans for the Fall and Winter? What's the best season for you as a band to tour?
Hopefully UK and East Coast in the Fall and more currently, in June we're doing a tour back out west with Spraynard and our buds from Columbus, Delay. Historically we've only been able to tour in the Summer and Winter, but I would bet the fall would be a good time for us to tour. None of us are too crazy about the heat. Sorry to give a boring answer but global climate change is real and its making it damn hot.
Not at all, doesn't matter where you live as of late because the heat seems to have stretched all over! To end out, any really funny memories you want to share with us about tour? Any helpful tips for being on the road?
On a drive from Louisiana to Kansas we got stuck in a Twister-esque storm and had to get off the highway and stay in the nearest town. For entertainment, we agreed that it would be okay to use a total of $25 of band money and go to the casino right by the highway. The scenario of 'what to do if one of us wins $10,000?' was seriously brought up and after much debate and discussion, we concluded that it would only be fair that the winner would graciously give $1000 of his winnings to each Sidekick (and Pat Brier). On the short drive there, we discussed in detail what each of us would do with our $10,000 (after paying out the rest of the band of course), and we waltzed into the casino with a hop in our step that could only be elicited by the seemingly certain promise of ten grand on the horizon. Jump cut 5 minutes later to a scene of the five of us exiting the casino $25 poorer, and feeling as if $10,000 poorer. Little known fact about casinos: the soda and coffee is free, but only so long as you are in the casino. They don't even let you walk out and finish your drink as you exit in defeat. That night I was introduced to one of the many bitter defeats I am sure to endure in my lifetime.