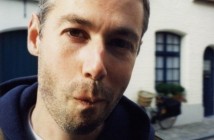 Following the news of Adam Yauch's passing, Coldplay and the New York Mets were among the many who gave tribute to the founding Beastie Boys member. On Friday night at the Hollywood Bowl, Coldplay did a cover of "Fight For Your Right (to Party)", which can be seen below. Also on Friday night, the New York Mets used Beastie Boys songs as their walk out music to pay homage to the Brooklyn Heights native, MCA. The players that participated and the songs they used can also be seen below.
What other tributes have you seen for the late emcee?
Update: Added Avenues, Matt Toka tributes
Met's track selections:
David Wright: "Brass Monkey" (his regular walk out song is "Sabotage")
Ruben Tejada: "Intergalactic"
Daniel Murphy: "No Sleep 'Til Brooklyn"
Lucas Duda: "The New Style"
Scott Hairston: "Root Down"
Ike Davis: "Fight For Your Right (To Party)"
Andres Torres: "So What'cha Want"
Josh Thole: "Make Some Noise"
Dillon Gee: "Body Movin'"
(Source: USA Today)

Coldplay: "Fight For Your Right (to Party)"
Matt Toka: "Fight For Your Right (to Party)"
Avenues: "Heart Attack Man"