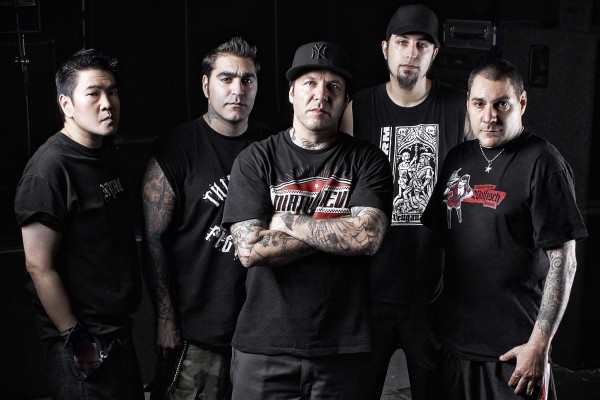 New York hardcore legends Agnostic Front will be re-releasing their classic 1989 LP Live at CBGB via Bridge Nine Records. The reissue will be pressed on a limited run of red, white, and blue striped vinyl. It is due out July 17, 2012. Agnostic Front singer Roger Miret said of the re-release:

That was a magical time for the band and Hardcore was thriving at it's best in 1988 when it was recorded… We are making this re-release very special for the record collector in a red, white and blue color and our timeless original cover embossed to add that punch it held back in 1989 as intense today in 2012! This will be a great release team effort with Agnostic Front and Bridge Nine… here it is - the glory days of 1988 New York City Hardcore as relevant today, tomorrow and forever!
In addition, the band has added a few more shows to their 30 Years of NYHC tour this June, adding dates in New York and New Jersey.
| Date | City | Venue |
| --- | --- | --- |
| June 22, 2012 | Clifton, NJ | Dingbatz |
| June 23, 2012 | Frederick, MD | Cafe 611 |
| June 24, 2012 | Reading, PA | Reverb |
| June 29, 2012 | Rochester, NY | Dub Land Underground |
| June 30, 2012 | Peekskill, NY | Popeye's Pub |
| July 1, 2012 | Atlantic City, NJ | Boneyard |