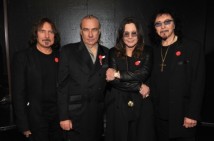 Drummer Bill Ward, most famously of the groundbreaking heavy metal act Black Sabbath, has announced that he will not be taking part in the band's upcoming reunion shows, citing a continuing "failure to agree." The band had announced a reunion of their pre-1978 lineup, featuring Ward, singer Ozzy Osbourne, guitarist Tony Lommi, and bassist Geezer Butler. The band had been announced as performers at this year's Lollapalooza festival in Chicago, as well as the 2012 Download Festival in Donington Park, England.
In a lengthy open letter to fans, Ward writes:

I sincerely regret to inform you that after a final effort to participate in the upcoming SABBATH shows, a failure to agree has continued. At this time I have to inform you that I won't be playing with BLACK SABBATH at the Birmingham gig dated May 19th, 2012, nor will I be playing at [U.K.'s] Download [festival] on June 10th, 2012. Further, I will not be playing at Lollapalooza [festival] on August 3, 2012. It is with a very sad heart that I bring you this news. I am sincerely passionate in my desire to play with the band, and I'm very, very sorry that it's fallen to this. This statement is even more painstaking to write, as I was particularly excited to play alongside Tony Iommi after the recent treatments he underwent. I wanted that to become a reality.
The rest of Black Sabbath's European dates this summer will now be filled by Ozzy and Friends, featuring Osbourne alongside Butler, guitarist Zakk Wylde, and featuring several special guests.
You can read the complete letter here.