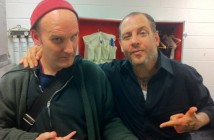 Mike Ness of Social Distortion - who celebrated his 50th birthday last month - spoke to The Salt Lake Tribune about his hopes to accelerate the release of albums from his long-running band. With the past three releases coming an average of 7 years apart, it would be a big surprise if this happened, but Ness is aiming to begin writing in January, explaining that:

I don't like to take it for granted that fans will stick around. We had some big gaps between albums [50] is the new 30. I box four to five times a week. I'm in a better place than when I was 30, spiritually and emotionally. It's like a fresh start. What [else] can I do over the next 50 years?
The band is currently on a tour in support of last year's Hard Times and Nursery Rhymes.