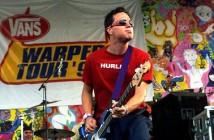 In a new interview, Warped Tour founder Kevin Lyman addresses a frequent band request for the annual touring festival. Apparently one of the most frequently requested acts for the tour is Blink 182 who last performed on the tour in 2001 but also previously headlined or participated in 1996, 1997, and 1999. Lyman explained the problem:

Everyone always says, 'Bring Blink!' Just as a sheer economics project, think about what Blink-182 would cost and what you'd pay for a Blink-182 ticket compared to a Warped Tour ticket. It doesn't work economically for Blink. They're always welcome to come back. The door is never shut for anyone, but they've just gotta figure out how to come be part of it and still make it work for that $40 ticket at the door.
Find the full interview here.