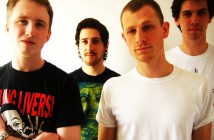 In the idyllic setting of the concrete steps outside Birmingham's defining landmark, the Bull Ring shopping centre, Punknews interviewer Kristy Diaz spoke with Watch Commander (Worcester, UK) on starting out and the release of their debut album, Clock and Compass, which coincides with a tour in July.
We also discuss their upcoming show at Crash Doubt, and the importance of the festival to the wider UK scene. You'll be able to catch them there on the Punktastic stage on Saturday, June 2nd alongside No Trigger, Heartsounds, Crazy Arm and Bangers, amongst many more.
Hello. Can you introduce yourselves? Jamie Stallwood: I'm Jay and I do the guitar stuff.
Simon Powell: I'm Si and I play bass guitar.
Claudio Caggianiello: I'm Claudio and I play the drums.
Si Rutherford: I'm Si and I play guitar and I sing.
Rutherford: We're Watch Commander and we play melodic punk rock.
Stallwood: We play pretty fast, enjoyable, guitar-heavy music. We take influences from loads of different bands and a lot of the records that have come out over the past two years; bands such as Red City Radio, Nothington, Polar Bear Club. But we're not really like any of those bands specifically.
The first time I saw you, in Leicester with Without Fire, Stand Fast and Radicus you came on and said this was only your third show, and everyone was commenting on how tight it was. How and when did you guys get together? Stallwood: We formed in January 2011, which is when Si got back from America. We just had five months of solid practising to get it to a standard we were happy to play live. It was so much better to get all the songs sorted, get practising, get them good, get it on record and then start playing shows.
Powell: You say that, but we learned one of the songs we played like, a week before we played it.
Rutherford: It was a combination of preparation and improvisation. That's what we're about.
It's either that or you're just great musicians, right? Rutherford: Well, yeah. That too.
Stallwood: It was nice when people started to recognise that at the first few shows, we appreciated it.
You've got an album coming out soon. Tell us about that. Rutherford: It's finished. It's just in the mixing process now. We're touring in July, so its definitely gonna be out by the time we do that.
What can we expect from it? Rutherford: The whole album was written in a short space of time, two months or something. The consequence of that is coherence to the lyrical content. The album is about a tension between the past and the present, between moving on to new things in your life, being weighed down by the past and recognising that you have to accept the things in your past and embrace them as you move forward. I think every song on the album reflects that in one way or another, there's a bit of journey from start to finish - but it's not a concept album!
Please don't become a prog band. Powell: We're the new Rush.
Rutherford: There's a cyclical process to the lyrics. It kind of starts and ends in the same place, finding yourself somewhere new that you're happy with and being able to accept being happy despite the struggles that you've had to get through to arrive at that place.
Stallwood: It's definitely progressed beyond our last EP in terms of quality of song writing. A few bits have got faster, but It's still a similar style, catchy, upbeat. We're all really proud of what we've done with it.
Powell: Now we can start working on our Rush-inspired album.
Stallwood: Absolutely.
I look forward to that. So, thanks a lot for coming all the way down from Worcester (and Oxford, Jay.) Tell me about the scenes there. Do they lose out to big cities like Birmingham? Rutherford: The Worcester music scene is very thin and in the last five years there have been next to no punk bands coming out there at all.
Powell: It's all tribute bands.
Rutherford: There were a couple of creative metalcore bands. I'm about to give a history of Worcester punk.
Stallwood: Go on then, off you go.
Rutherford: Worcester used to be a really fantastic place for punk, hardcore and ska from the late 90s. There was a band called Tribute to Nothing, who were the central point of the scene, they put on weekly shows, ran a recording studio and Lockjaw Records which also bought some interesting bands in.
Powell: The first show I went to there was that band that did the Buffy theme tune.
Rutherford: Nerf Herder?
Stallwood: Yeah I mean you've got loads of good bands. Five Knuckle.
Powell: Vanilla Pod.
Stallwood: Douglas.
Rutherford: The scene did change a bit because once metalcore and haircut hardcore became popular there was like a movement towards that and the kids started forming bands like that and it became more of a fashion trend. When that trend died off they stopped coming to shows and then there were just like 20 people standing, wondering what the hell happened. The people who put on shows dropped it, the studios closed down and since then it's been pretty sporadic. The other Worcester punk rock band we're good friends with are Fights and Fires, they've been going for around 4 years and have been trying to keep the scene going. In terms of punk rock, they're pretty much it.
Stallwood: They're pretty much holding Worcester together.
Rutherford: So we're trying to help them out.
(Note: At this point, we attract the attention of some young people who begin to loiter around us, smoking and looking menacing. But in the face of adversity we continue on.)
Rutherford: You've got to include this in the interview!
There seems to be a real buzz around the UK scene at the minute, with some really great bands emerging. How do you feel about it, and how do you feel you fit in? Stallwood: I think if we fit in at all, it's very much towards the bottom.
Rutherford: That's the best response ever.
I didn't mean in, like, the hierarchy of UK punk! Rutherford: It's great when people tell us that we're doing great things, but to go out to see bands such as Our Time Down Here, Living Daylights, Apologies I Have None, Above Them, they're all doing really great stuff. It's brilliant when you go to a show and the people care, know the songs and really just want to be there because the music is so great. That's why we're all really looking forward to Crash Doubt in June because you've got all those bands coming together with a couple of thousand people who are all into it.
Powell: It'll be nice to play to an audience who, y'know, want to see us.
Rutherford: So how do we fit in, other than at the bottom of the punk hierarchy?
Stallwood: And the top of the football hierarchy.
Rutherford: Musically, I would like to think we fit in that kind of straight up, solid melodic punk approach. As We Sink, a band from down Cornwall, they play a similar style and then there's bands like Make Do And Mend and we pull towards an embracing of that honest, passionate punk rock with integrity.
Stallwood: If punk rock were a spectrum in the UK, we'd be on it somewhere.
Rutherford: It's nice to know that we don't feel like outcasts. At times.
You beat me to my next question. Rutherford: "Do you feel like outcasts?"
You guys are playing Crash Doubt festival in June. On a scale of one to stoked, how excited are you about that? Powell: What's between stoked and one?
Stallwood: Just fucking stoked. On a scale of one to stoked, I'm stoked.
Powell: Super stoked.
Stallwood: We were pissed because we essentially formed our band too late to play last year. When it came around there were all these great bands playing this year and were like, 'we wish we were playing that.'
I think it's so important to the UK scene as a whole. I love that it's happening in Lincoln, which isn't necessarily the most obvious place. Stallwood: It's a genuinely DIY festival. It's massive, especially for the UK.
Rutherford: And I think it was a risk for them last year, I don't think they necessarily knew how it would turn out. I was there last year and it just blew me away. It was the best thing I've been to in the UK, ever, in terms of punk rock shows and the sense of community.
Stallwood: It's like the UK Fest.
Rutherford: Not only a place that people can come and see all these great bands but also brings together bands from all over the country, who cross paths from time to time and who form bonds. It's a real privilege for me to see all these bands and be welcomed by them. To have everyone in one place, it'll be like hanging out with friends.
Stallwood: I think that's the good thing; we're going to be around for most of the weekend and it's going to be great to be around people who are similarly minded.
The smoking children reappear.
Rutherford: Do you think they feel like outcasts as well?
I think they're higher up in the punk hierarchy. Powell: They just told Claudio to pull his trousers up.
Stallwood: Man, I can see your ass, Claud. Put it away.
At this point, church bells start to chime, loudly.
Good timing. Thanks, God. Rutherford: That guy.
Stallwood: Always hating on punk rock.
Stallwood takes this opportunity to tell us about being a history teacher, and how history is 'like an avocado'. No-one is buying it.
Powell: Can you please give Claudio the next question?
So, Claudio, when was the last time you committed an act of punk? Powell: I'm so glad he got this one!
Caggianiello: I'm so old for that. Wow. That is a good question.
Stallwood: Come on, when have you been at your most punk?
Caggianiello: That's my life. I don't do punk.
Stallwood: You don't act punk. Ever.
Powell: Like you do, in your v-neck sweater?
Stallwood: Hey, I wear a waistcoat to work. That's how punk I am.
Rutherford: You've got to save the integrity of this band. Waistcoats!
Stallwood: Si has a vinyl player. That's pretty punk.
Rutherford: Yeah, I got some records today.
So, you've landed some great support slots, like I Am The Avalanche, Spraynard, amongst others. Who have been the most fun to play shows with? Powell: Red City Radio. They got me stupid. I hadn't drank in about 10 months and Garrett stuck a bottle of Jäger in my mouth, physically crammed it in my mouth, and made me drink half of it.
Surely that was your last act of punk, no? Powell: That wasn't really me though.
Stallwood: We played with Leagues Apart, Red City Radio and some prog band. It was just great seeing Garrett stage dive onto Si and collapse on him whilst still playing.
Powell: Didn't miss a note! He was just resting on my lap. I didn't know what to do.
Stallwood: Pretty creepy.
Rutherford: It was really great for us to play that show. That was last October, and I'd been listening to their album all year since it came out.
Stallwood: I think the Menzingers one in Manchester was pretty fun too. Again, we'd all been listening to Chamberlain Waits for ages to play alongside them was great. We've been pretty lucky.
What do you guys do when you're not playing in a punk band? Stallwood: I'm training as a teacher, wearing a waistcoat every day. Gig-wise, it's pretty hard. We played in Manchester about a month ago and I had parents' evening that night, so I went straight from there and got to Manchester at 10:20, played in my suit and left. I was literally in Manchester for half an hour, just to play that show.
Powell: That's quite punk of you!
Stallwood: Yeah. I think that's the most punk I've been, ever.
Caggianiello: I'm still thinking about that punk question.
Stallwood: I also go punting in Oxford.
Powell: I sell mobile phones for a reputable phone company. Technically, if something is published, I'm not allowed to mention their name. I could get fired for it. True story.
Stallwood: There are plenty of good retailers out there.
Rutherford: It's not like some top secret MI6 phone company.
Do you think that music, and Watch Commander, will ever be something that you get to do full-time? Would you want it to be that way? Powell: I would love to.
Stallwood: Yeah, I mean even with me spending a ton of money to go to University again, I would still love to get this teaching degree under my belt, build up some money and then have enough time to be able to try and do this full-time.
Powell: It's just time and money really.
Stallwood: Especially now when things are bad in terms of jobs.
Powell: If we did it full-time and if it didn't really work out, it could really mess us up.
Stallwood: You've lost about five years of your life and would be just searching for another job again.
Caggianiello: I'll be retired by then.
Stallwood: I think we're all ambitious to try and be able to do this full time. It just depends on whether that is a possibility that is practical.
Powell: We're all about being practical.
Rutherford: Practicality punks.
Last question - what is it that drives you do to what you do and keeps you going as a band? Powell: Claud keeps me in this band.
Caggianiello: Do I?
Powell: Claud's the glue that holds us all together.
Rutherford: From a personal perspective, I just have to play music. I've been writing songs for 11 years now. I'm not quite writing good ones yet, but I'm getting there! I just have to play. It's just something I've always wanted to do and I always will do. I lived in the US for a while and did an exchange year in Vermont and then lived in Albany for a year and a half and during those times I couldn't play music, couldn't be in a band, and it was difficult. As soon as I knew I was coming back to the UK, I got this band together to play some songs. It's kind of surprised me how well we've done so far, in the last year. To have played shows with awesome US bands and recorded an album, which is something I've wanted to for a decade.
Powell: It's lucky Si came back when he did, because Jay and I were about to start possibly the worst pop-punk band known to man.
Stallwood: Imagine the what-ifs! Watch Commander is now for me just a standard part of life. I turn up, see three friends and we hang out.
Powell: For me, it's just something I've always wanted to do. I played in a band that just played three venues around Birmingham. That was it. Then I moved to Worcester and played in possibly the worst ska band ever. We played two songs in which I broke the same guys' leg twice.
Should you even be allowed outside? Powell: Should he have been allowed near a stage?
Stallwood: How about you Claudio?
Caggianiello: Literally, I just like playing the drums.