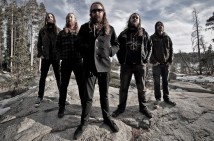 San Francisco hardcore outfit Early Graves have signed to No Sleep Records and will be recording for the label in July with a release planned in the fall. The band recruited John Strachan (of The Funeral Pyre) to replace their original vocalist, Makh Daniels, who tragically died in a van accident in 2010. The band's guitarist Chris Brock made this comment about the signing:

After enduring every shitstorm the proverbial 'universe' can throw at us for last few years, we are extremely excited to be releasing our new batch of burners on No Sleep Records. [It] may not seem like a likely landing spot for a band like us, but [the label] releases music that they care about and want to work with, which is something we can definitely get behind. I won't bore with you with a 'our new album sounds like mixed with this mixed with that' or 'it's heavier, faster, more melodic' bullshit, but I will say that we are happy to be releasing it with a label that likes it as much as we do.
The band previously released music on Ironclad Recordings and those were described as "Hellacopters/Turbonegro rock n' roll with Black Flag's and Bad Brains' inspired hardcore with a crushing balance of both Morbid Angel's heaviness and the raw intensity of power violence."