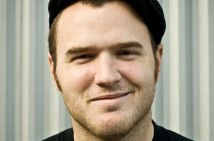 Bridge Nine Records will be releasing the new solo album from Chad Gilbert of New Found Glory, Shai Hulud, International Superheroes of Hardcore, and uhm, Hazen St. The musician will be releasing the EP under his solo moniker What's Eating Gilbert. Titled Cheap Shots, the EP is due out July 31, 2012 and will feature "sleek 50's-style pop with a nod to the punk sound [of] New Found Glory." He explained:

I'm excited for people to hear my songs on this EP. As my solo song writing develops, it's showing more and more my goal: to create modern 50's pop rock throwback… a style of music I heard around my house being played by my parents when I was a baby. So happy for another release with Bridge Nine - a label I admire that works hard and has the same roots in hardcore and punk rock as I do.
Gilbert previously released solo material through Epitaph, Paper and Plastick as well. This EP - his fifth solo release - was recorded earlier this year at Buzzbomb studios and produced by Chad Gilbert and Paul Miner.