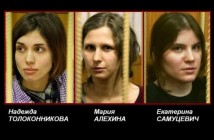 Political protestors and feminist punk collective Pussy Riot are the subject of an op-ed about the role of protest and punk in the political sphere. The group, who have frequently clashed with authorities in Vladimir Putin's Russia, are the lede in Real Punk Belongs to Fighters which alludes to everything from the Sex Pistols' attack on the Queen in 1977 to Burmese punks, and Iranian punks and the very real dangers they face for expressing non-traditional opinions. The article also alludes to frequent target John Varvatos and his storefront located on the CBGB site.
The article notes:

In other words, unless you print them on a T-shirt, political messages don't sell. Punk today belongs more to Russia and Iraq, Myanmar and Indonesia, than it does to its birthplaces. Like any movement steeped in dissent and nonconformity, punk's moral force grows with government suppression. As authoritarian regimes crack down on rebel rockers, their efforts to censor subversive voices often backfire by attracting attention from international media and human rights activists. Real punk -- cheeky, risk-taking, rude, sloppy punk -- belongs to fighters.
Check out the article here.