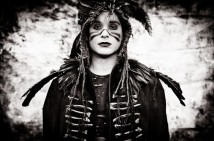 As many online sources reported last week, the debut hometown performance of Alkaline Trio side project Matt Skiba and The Sekrets did not go well. Described with such friendly terms as a "trainwreck" and "completely fucking choked" the set even earned an apology from the beleagured frontman who explained:

I was pretty sober just couldn't sing…killed my mojo. I'll do my best to make it up to everyone. Sorry to all who came to the Metro tonight and felt let down. It won't happen again. I was nervous and had no voice. Terrible excuse but it's the truth. So sorry to those I disappointed…I truly am. I would't have a job without you.
Well, you no longer have to take the internet's word for it as the set has appeared online.
Skiba is supporting 2012's Babylon . Now, he just owes us an apology for that press photo. We love you Matt, but seriously.
Update: The video has been pulled by Century Media. If you want to talk to them, their Twitter is here.