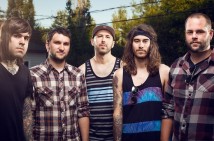 Epitaph Records has signed Montreal and Ottawa metalcore outfit Obey the Brave. The band said this about the signing:

I remember listening to my Pennywise and Rancid cassettes back in high school and daydreaming endlessly about being in a band and touring the world. If someone would have told me back then that I'd sign one day with the label that started it all, I would have never believed it. It feels unreal but my boys in OTB and I are definitely up to the challenge. We're extremely honored to now be part of the Epitaph family.
The band's debut record is titled Young Blood and is due out August 28, 2012 via Epitaph in the US and Distort in Canada.