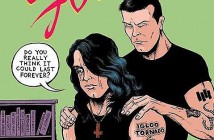 Rolling Stone followed up with the unfortunate photographer who was attacked for shooting pictures of Glenn Danzig and potentially stealing his soul. Michael W. Bunch, who works for Nashville Scene, explained the situation:

I was told by someone that works for Bonnaroo that, essentially, we could shoot over on the side at our own risk," Bunch says. "They warned us [that] he's not a huge fan of being photographed and that his staff might approach us. I saw some people dancing, I was shooting them and then the guy came back over again and he was like, 'Man, [Glenn] is getting really antsy. You really aren't shooting him, are you?'

He was just pointing at me and screaming something about fucking up the show. I was confused and amused by it, I guess, because I thought it was absolutely ridiculous … I just stood there thinking, 'Well, if Danzig really wants to run offstage and tackle me then I'm gonna give him his chance.' … I feel like it was really a theatrical thing.
Check out the full report via Rolling Stone.