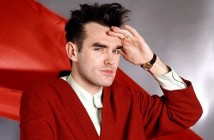 Morrissey and NME have settled their libel case which began in October 2011. Morrissey accused the magazine of libel after they published article he said made him appear to be a "racist and a blatant hypocrite." Our own John Gentile provided his take on the situation back then. In any case, the magazine issued a statement today accepting responsibility and apologizing but not actually giving any money to the former The Smiths singer:

After an ongoing dialogue with Morrissey and his representatives, NME today publishes a clarification in the magazine and online which makes it clear that we do not believe we ever called Morrissey a racist and nor do we believe he is. We have said sorry to Morrissey for any misunderstanding that may have arisen. The settlement with Morrissey does not involve payment of any damages or legal costs.
So that's that. Now Steven Patrick can get back to his other favorite hobby, comparing mass murder to the fast food industry.