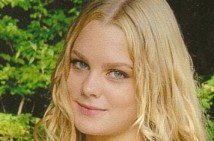 Metallica has recorded a PSA to help police who are searching for the killer of Virginia Tech student (and Metallica fan) Morgan Harrington. The woman disappeared after leaving one of the band's 2009 shows in Charlottesville. The video urges people to contact the FBI or Virginia police if they recognize composite sketch of the man wanted in the case. Hetfield explains:

Remember, any information – no matter how small you might think it is – could be that crucial piece investigators need to help solve the case
Along with a reward of $100,000 offered by police, the band has contributed an additional $50,000 for information leading to an arrest. More information including the sketches, can be found on Find Morgan.
Metallica, for their part, is currently label-free and preparing for their Orion Music + More Festival with Fucked Up, Avenged Sevenfold, Best Coast, Black Tusk, Cage the Elephant, Hot Snakes, Landmine Marathon, Liturgy, Lucero, Modest Mouse, Red Fang, Suicidal Tendencies, The Gaslight Anthem, The Sword, Titus Andronicus and Torche.