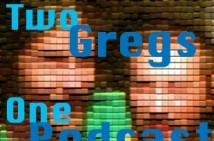 Punknews.org is happy to continue our exploration of the regional scenes with the fourth episode of Two Gregs One Podcast, our spotlight of the U.S. Midwest from Org staff reviewer Greg Simpson and pal Greg Moore. On this episode:

…Barsuk act Maps & Atlases (Chicago), Margot & The Nuclear So and So's (Indianapolis), The Hussy (Madison, WI) and Community Currency (Bloomington, IN). We also hear Greg M.'s thoughts on double-tapping and find out just how little Greg S. knows about basketball
Click Read More to stream and/or download the show, or subscribe via RSS or via the iTunes Store.
Two Gregs One Podcast - Episode 4