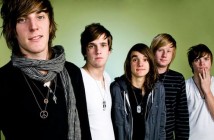 Arizona rock/emo group The Maine are really hoping to get out of their contract with Warner Music Group. In a new interview, the band talked a bit about their experiences and how they were forced to self-release their last album - Pioneer - due to a lack of support from the label:

We were pretty excited, we were working for about six months and we thought that the end point would be that we had to put it out on Warner Brothers but they weren't too excited about it. We were excited about it though so we just released it. [As for the contract] it's really out of our control at this point. We'd like to not be there, but we can't make that final decision. They know how we feel and we will try to get it worked out in the next couple of months but it's way beyond our control at this point.

Putting a record out on a label you have many more opportunities just because they have a relationship with certain entities and distribution places. Our manager had to go out and beg and plead to get the record in stores. But what's been cool by doing it on our own is it shed a little light to who we are as people and as a band at this point.
Find the rest of the interview here.