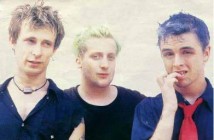 In a new feature for Rolling Stone's print edition (brought to us courtesy of Green Day Authority) the band talks about their plans for their upcoming trilogy of albums. Producer (and Warner boss) Rob Cavallo notes that: "We wanted to go back to the simplicity of Dookie" though the band explained the records slightly differently, with frontman Billie Joe Armstrong explaining:

The first one is power pop. The second is more garage-y, Nuggets-type rock. And the third - is supposed to be epic. In the first album, you're getting in the mood to party. On ¡Dos!, you're at the party, and on the third album, you're cleaning up the mess.
The band began writing during the 21st Century Breakdown tour and wrote more than 70 songs, of which 36 will appear on the three albums.
The albums in question are ¡Uno! due out on September 25th, 2012, ¡Dos! due on November 13th, 2012, and ¡Tré! on January 15tth, 2013. The trilogy of releases is the first new material since 2009.
Since Cavallo mentioned Dookie, why not go watch the video for "Basket Case" and remember simpler times of songs about masturbation, recreational drug use and role reversal domestic abuse.