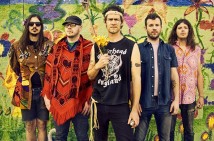 Chicago psych-punk outfit Treasure Fleet have completed recording their second full length and follow up to their debut on Recess Records. The band includes members of The Lawrence Arms, The Arrivals, Smoking Popes and the band is described as "a melange of mod and psych inspired indie rock.."
The record - titled Future Ways - is expected in the Fall and was recorded at Atlas Studios in Chicago and currently in the mastering stage of production. It's described as the "more straight ahead punk-rock album of the band's two releases so far. "
The band has also recently posted a video for "Trapeze Artist (1&2)" and if you haven't' seen that, you can find it here.