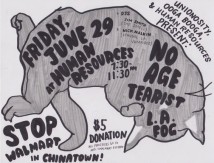 Pitchfork is reporting that No Age, Tearist and LA Fog will be headlining a anti-Walmart protest in Los Angeles. It's set to take place at the Human Resources performance space in L.A.'s Chinatown close to where the corporation is set to build the store.
The event has been organized by the workers rights non-profit Unionosity and Ooga Booga art space. The press release explains their objections to the store:

Walmart obtained permits for the Chinatown store just one day before Los Angeles City Council unanimously approved an ordinance banning chain stores from the neighborhood.

The June 29th event aims to draw attention to Walmart's unfair labor practices and their plans for the region, to support the small business institutions that dignify the neighborhood and to demonstrate solidarity with the vibrant music and art scene long housed in Chinatown.
Donations to attend the show run $5 with proceeds to benefit nonprofit organizations driving the anti-Walmart effort.