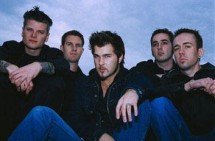 Two revered yet defunct southern Ontario based punk/hardcore outfits - Grade and The Fullblast - have announced a reunion show together at the Guelph Concert Theatre in Guleph, Ontario on September 1st, 2012. Along with the two bands, the event will include Moneen, Belvedere and Lifestory Monologue.
Burlington's Grade last performed a sold-out show at Toronto's Opera House in the summer of 2006. Similarly, the Oakville-based Fullblast last performed at their own sold-out Opera House show in the summer of 2008. Moneen, while not formally split up, have only played a handful of shows in the past two years. Belvedere recently reformed for European festival shows, and a sold-out reunion show at (you guessed it) the Opera House in April 2012.
Tickets are available Friday, June 22nd and details can be found here.