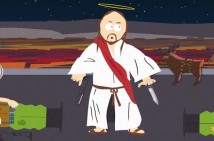 Brian Fallon of The Gaslight Anthem has posted a blog update on the recent controversy and speculation about the role of his faith in the break up of Thrice late last year. Fallon, who has made no secret of his own Christianity but has been adamant that it has no place in the Gaslight Anthem once saying:

There are no religious songs and there never would be because the four of us, we all have different views, completely different religions. I'm very cautious not to push that on the band. I don't really know what I'm talking about with religious themes enough to think I could write like a whole record about that
As for Dustin and Thrice, he posted a defense of the musician saying:

You post on the internet quips about how Dustin's a Christian so that somehow = racist, sexist, homophobe? The guy wants to praise his Lord, whatever… how does that affect you? What's a Christian to you? FOX News anchors? Awesome; those people are class acts. Why don't you ask anyone who's gay who knows Dustin about how poorly he's treated them? I bet you don't get the response you were looking for. Do you even know what these words mean before you go tossing them around people's necks?
Check out his blog post here.