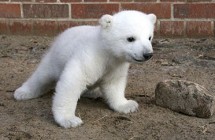 Greenpeace has enlisted the aid of Radiohead and actor Jude Law in a video for their new Save the Arctic campaign. The video features Radiohead's Kid A song "Everything in Its Right Place", and a a voiceover from Law.
The video documents the life of a homeless polar bear who was forced to leave the Arctic due to climate change.
If you're moved by the campaign, you can show your support here. If not, I guess go buy a Coke and try and figure out what they're going to put in those commercials in a few years. I guess you could probably donate some money to Mitt Romney too. I'm pretty sure he's on the other side of this issue.