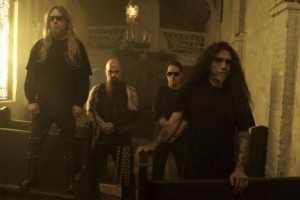 AOL's Noisecreep recently sat down with Slayer bassist/vocalist Tom Araya. Araya discussed receiving the keys to the city of his hometown of Vina del Mar, Chile; the balance between his Catholic faith and the lyrical content in some of Slayer's music; touring and being separated from his family; and most importantly, how big a fan of country music he is.
Slayer last released World Painted Blood in 2009, and are in the process of writing the follow-up to that record. The band is currently performing as part of the Rockstar Energy Drink Mayhem Festival.
In related news, colorfully named garage/glam punk band Glitter Dick have posted a surf version of Slayer's "Seasons in the Abyss." Check that out over here.