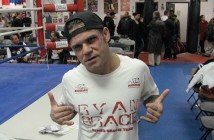 A bit of shocking news coming from the kick off of the CBGB Festival at New York's Webster Hall tonight. Founding (but not current) Cro-Mags bassist Harley Flanagan allegedly stabbed current Mike "The Gook" Couls at the venue before being subdued by security and hauled away by police. Bowery Boogie reports on the incident:

We were watching the show at Webster Hall when all hell broke loose upstairs. Flannegan stumbled into the VIP lounge with a knife. Security mobilized in a hot minute and beat the shit out of him. It took no less than six beefy dudes to control the madness. Blood was everywhere, and bone protruded from his shin.

Cops quickly appeared and took him away in cuffs. Not before he had already stabbed some dude in the chest. Because of the violence the rest of the show was canceled. The remaining bands promised to reschedule the show. To be fair, Webster Hall security contained the situation professionally. Lots of drunken, pissed off hardcore fans were on edge after the cops shut down the show, but the scene was cleared without further incident.
It looks like tomorrow's (free) and likely huge performance at Time Square remains on the schedule. That event will include Superchunk, Clap Your Hands Say Yeah and The Hold Steady. Both the Cro-Mags show and the Times Square performance are part of the previously announced CBGB Festival.